It's right around the corner: GeekCraft Expo PDX, the Northwest's premier geeky craft fair, is May 12-13 at the Oregon Convention Center! Come visit our free, family-friendly show to shop more than 80 local crafters and participate in cosplay, free kids' crafts, and more. One of our exhibitors is Stitched Heart Art (also known as MuseArt), incredible nerdy doll paintings by Glo Lamden-McCollough. We chatted with her about how she got her start and what she'll be bringing to the show this year!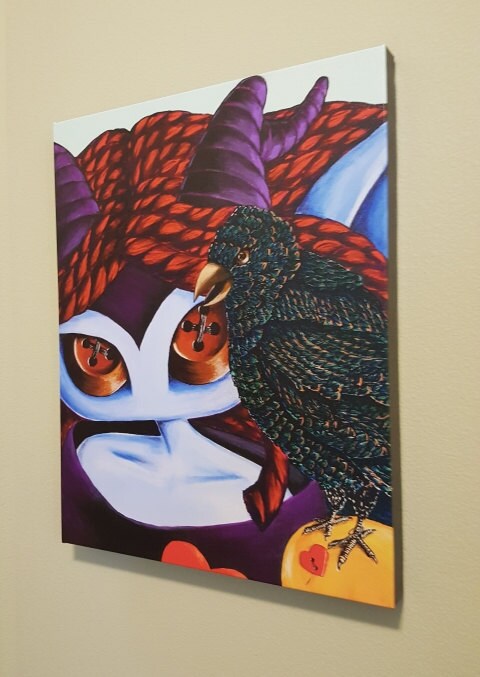 GeekCraft Expo: How did Stitched Heart Art get its start? 
Glo Lamden-McCollough: A voodoo doll of my husband. Yep, it's true. A few years ago, my husband and I were actors/guild members of a pirate group and I needed build a character to play at the local faire. After some deep soul searching, I decided my new character should be a sea witch who loved to make spirit dolls. As stated, my first doll, kilt and all, was of my wonderfully supportive husband. The little spirit doll became so popular that I started to make other spirit/muse dolls out of linen, buttons, and fabric–each had a wooden heart sewn into it to protect it from harm, enter the name of my art, "Stitched Heart Art." Soon, I left the fabrication of dolls and moved into painting them on canvas–it opened a lot of creative doors and allowed me to express my Muse in new ways.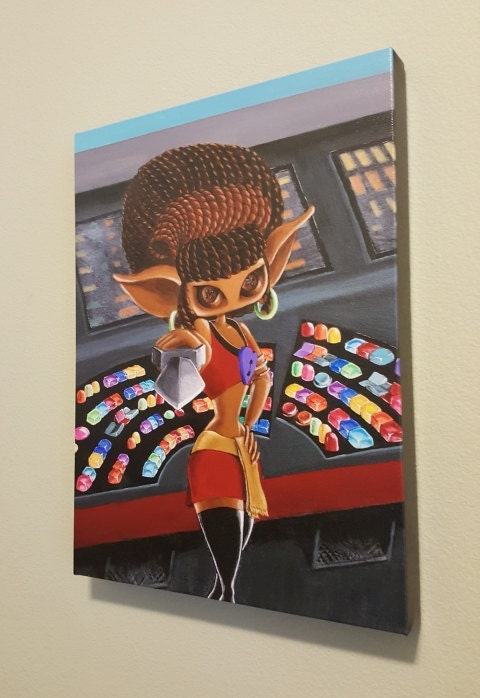 GCE: Have you always been interested in painting?
GLM: Quick answer no. I'm self-taught. And for transparency, I painted my first painting right around August 2016, that's two years ago. How it started is a long story and quite the accident, however, I found that painting my Muse and being inspired by my favorite pop culture icons, films, and books was a great way for me to convey creative, inspirational, and personal strength messaging in each piece. I believe strongly in my personal Muse, and her uncanny ability to motivate.
GCE: What are your influences?
GLM: There are far too many to list.
GCE: How did you develop your technique of painting "stitches" and yarn?
GLM: This is a really interesting question and I actually didn't know how to answer it at first. So, I'll just say that I have an obsession with yarn, though I can't do anything with it accept make dolls and paint it. Perhaps it's because I'm a rather tactile person and want to convey how yarn feels with paint.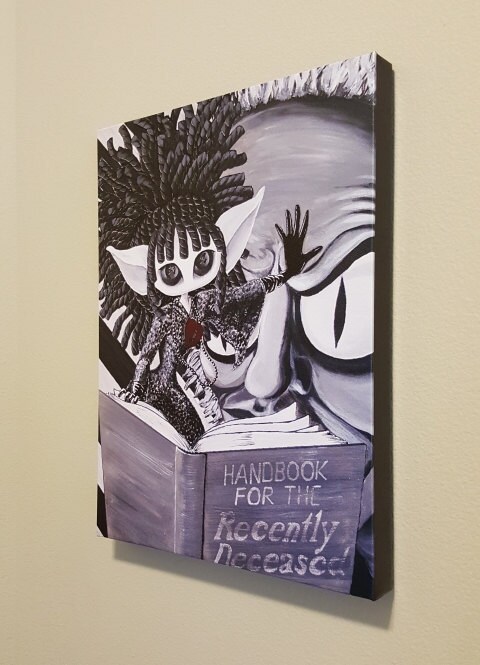 GCE: What are your personal nerdy favorites?
GLM: Anything that has the word "Star" in it. Marvel movies and DC TV. Horrible B-movie sci-fi to wizarding worlds and everything in between.
GCE: What's your favorite convention snack?
GLM: Snack? Gimme coffee!
GCE: What are you bringing to the show this year?
GLM: Lots and lots of MuseArt! Canvas reproductions, prints, pendants, and stickers!
GCE: So to sum up–MuseArt/Stitched Heart Art is . . . ?
GLM: MuseArt is a merger of my obsession with sci-fi, geekdom, and other-worldly realms, together with a passion for an alternative vision. My personal Muse is a mix of a feisty fae, a woodland creature, and my own stitched doll that is inspired by nerd/geek-culture. Each piece is created with the intention of inspiring, motivating, and delivering insight to those who possess them.  In other words, the theme for each image may draw you in, however the artwork has a deeper purpose. 
Our thanks to Glo for a fantastic interview! Make sure to stop by her space at GeekCraft Expo PDX May 12-13.